3 Glass Tile Bathroom Design Concepts Inspired By Summer
Get lost in the beauty of a summer getaway right in your bathroom by designing with glass tile. Brightly colored glass tile, like shimmering blues, bright yellows, or shades of green evoke the feeling of sun-kissed beaches and breezes, and with American Olean's large selection of glass mosaic shapes and styles, you can create your private escape.
From tranquil blues, jewel-toned turquoise, or warm amber hues, beautiful glass tile designs preserve the warmth of a summer retreat in your space year-round.
1. Bring in the Blue
Blue is always a great choice for bathroom decor. Whether you're creating a navy and white striped nautical theme or replicating flowing with lighter blues, blue mosaic tile can create the look you want.
To create stunning backsplashes or shower surrounds, use Color Appeal's Pacific Coast Blend, which combines moonlight blue and pearl-colored glass tiles with marble. If you want to create an even more serene spa-like bathroom, consider Jubilance Esprit glass and stone mosaics, that feature a calming natural palette in shades of blue. To add depth to neutral decor, use bolder blue tones as decorative accents.
2. Use Glass to Add Contrast to Muted Decor
If your bathroom design is a little on the plain side, incorporate glass tile to add interest and brightness without abandoning your original design. Glass tile has a reflective property that can give a room a beautiful glow, and using glass tile in small installations can recreate that sunny shimmer that will up your existing bathroom decor with a summery feel.
White color schemes are also a popular choice for designs, and while all-white bathrooms look sleek and pristine, sometimes they can be a little too stark. Adding colored glass tile on the walls or floors can break up the monotony and add balance to an all-white bathroom while still maintaining a clean look. A slight contrast of color using glass tile can enhance the monochromatic design, and a simple sparkle from just one or two rows of tile around your bathtub can modernize the look of your bathroom in a snap.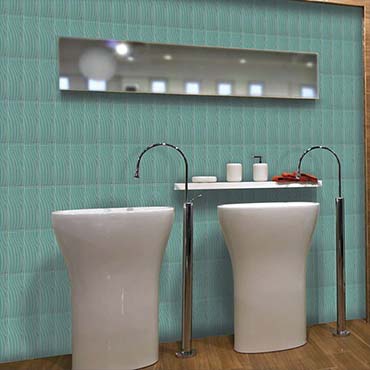 At Lone Star Floors we believe an educated consumer is our best customer.
Other simple ways to add contrast

Create an Accent Wall of Color

If your shower needs a little pizzazz

A summer-inspired bathroom design

Focal Point
Dont Know What To Start With?