While many homeowners have spent quite a bit of time considering the best type of flooring for their needs, very few have put much thought into the underlayment of their floor. If it has never even occurred to you that underlayment is a factor in hardwood flooring installation, trust us, you are not alone! Most people do not put the level of thought into flooring that the experts at Lone Star Floors do. Because we are flooring experts, we have a wealth of knowledge in terms of floor installation, maintenance, and repair, including underlayment.
Your flooring is made of three layers: the subfloor, the underlayment, and the floor covering. Underlayment is the layer placed between the subfloor and the floor covering. It can be made out of a variety of materials, including cork, rubber, rubber cork, foam, and polyvinyl. This is the most important part of any flooring installation project, alongside the subfloor. Underlayment adds protection to your floors, and depending on what type you choose, it can serve different purposes for your home, including sound absorption. Underlayment is an essential step in any flooring installation because it is what absorbs any issues with the subfloors, ensuring that your flooring is installed on a smooth, supportive surface. It is important to have an understanding of the different types of underlayment and what purpose they serve before you install new floors.
Cork
Cork is the best underlayment material for preventing sound transmission and is generally the most expensive option. If you have anyone living below you, cork is a great idea for your underlayment, because it will help muffle the sound of your footsteps. Cork underlayment certainly makes you a thoughtful upstairs neighbor; however, cork is not the best option for environments where water damage is a concern.
Rubber
Rubber is a very versatile underlayment option. If your floors sound hollow, the rubber will help get rid of that annoying sound it makes every time you take a step. Additionally, the rubber will protect your flooring from mildew and mold because it is completely waterproof, making it a great option for basements, bathrooms, and kitchens. Rubber is also simple to install under almost any floor, particularly hardwood flooring and concrete, so you can rest assured that a rubber underlayment is a great choice for efficiency.
Rubber Cork
Rubber cork underlayment is a combination of rubber and cork, combining the best of both of these options into one great one. Rubber cork is the right material for you if you are concerned about your tile floors cracking over time because it will help keep the unity of your complete flooring.
Foam
Foam is a very popular flooring option, and it is not hard. First of all, foam is not very expensive, making it the most cost-effective option. Despite being inexpensive, it provides excellent sound reduction. Additionally, foam underlayment is very easy to install under any type of flooring.
Polyvinyl
Polyvinyl is great for protecting your flooring against moisture, and therefore, mold and mildew build-up. Polyvinyl can be installed under essentially any type of flooring, but it is particularly advantageous wherever flooding is a concern.
If you need hardwood flooring installation, refinishing, or repair in Texas or the surrounding areas, your best bet is Lone Star Floors Flooring. We are the leading flooring experts in the Texas area, and we would be more than happy to help you with any of your flooring needs. Contact us today at 281-564-1345 for a free in-home estimate!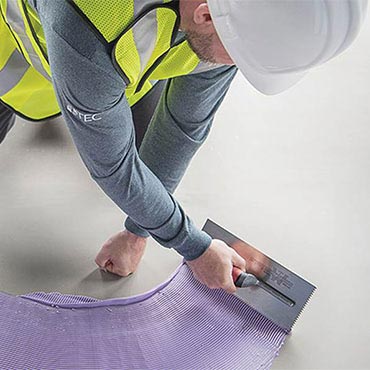 At Lone Star Floors we believe an educated consumer is our best customer.
Don't Know What To Start With?